STEP 9
Visit completion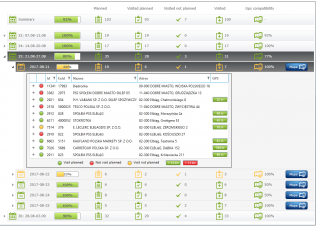 Based on information from mobile devices of your Sales Representatives, i.e. GPS data and visit information – route.plus offers a report of your work plan. The data collected is presented as a percentage of visits made to planned visits. Our system allows three variants of visits:
customer visited as scheduled
customer not visited as scheduled
an unplanned customer visited.
The report is delivered day after day – from the moment you buy our service, you have full control over the efficiency of your employees. You can also view the performance of a daily work plan on a map where you mark the traces of the employee's GPS. To make it easier for you to analyze your work plan, we also give you the ability to export data from your report to the standard Microsoft Excel file format.